Device Identification Web Pages for
Medtronic Devices Have Moved
Serial number searches for Medtronic Cardiac Rhythm Disease Management devices have moved to our CRDM Product Performance eSource web site.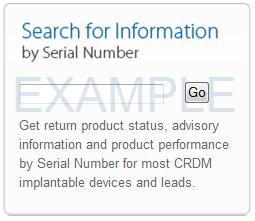 When you go to the site, you will see a search box on the right-hand side of the page.
Please bookmark the new site for future searches, as this message will only appear for a short time.
Click here to go the CRDM Product Performance eSource site