CFx Longevity Estimator Software Error - Software Updates Available June 2020
Subset of IPG, ICD, CRT-P, CRT-D, and Micra TPS devices - June 2020

Original Date of Communication: June 2020
View specific models that this applies to
STATUS UPDATE - NOVEMBER 2023
This advisory has been addressed through release of several new software updates. The complete list of software applications available are listed in the table below. Medtronic representatives will work with local clinic and hospital staff to update programmers. Once a programmer has been updated with the version of software indicated in the table (or higher), the correct longevity estimate for the affected devices will be displayed.
Note that as of September 2020 the Medtronic CareLink Network was updated for this advisory. All longevity estimates displayed on CareLink reflect accurate estimates (based on programmed settings and use conditions recorded by the device).
Phase 1 – June 2020
Phase 2 – January 2021

Azure™/Astra™ (SW030) v 8.1

Serena™/ Solara™/ Percepta™ (SW040) v 8.3

Visia AF™/ Visia AF™ MRI (SW035) v 8.2

Claria™/ Amplia™/ Compia™ (SW034) v 8.4 (US Only)

Viva™/Brava™/ Evera (SW016) v8.4

Evera™ MRI/ Primo™ MRI/ Mirro™ MRI(SW033) v8.5

Micra™ VR TPS (SW022) v8.2

Claria™/ Amplia™/ Compia™ (SW034) v 8.5
Table 1:Device family updates by phases
Note: The availability of software releases is specific to countries that follow FDA and CE Mark approvals. Release timing may differ for other geographies. Check with your local Medtronic representative.
As of October 11, 2023, there have been 826 total complaints received related to the software displaying a lower-than-expected longevity estimate. Within the 826 complaints reported, no patient harm was reported, and 25 devices were prematurely explanted after observing an inaccurate longevity estimate.
ORIGINAL COMMUNICATION - JUNE 2020
In October 2019, Medtronic identified the potential for Medtronic programmer and remote monitoring software applications to display an inaccurate remaining longevity estimate for a subset of implanted cardiac device models. This issue does not impact device functionality. Furthermore, the Recommended Replacement Time (RRT) remains an accurate indicator for device replacement.
Through September 18, 2019 there have been three (3) reported complaints and there have been no (0) serious adverse events or deaths.
The inaccurate longevity estimation is limited to a well-defined subset of devices manufactured between October 2018 and April 2019, and only occurs in the middle (plateau) phase of the device life, as illustrated in the graph below. Approximately 53,100 devices worldwide, out of 1.23 million distributed or sold from the identified device families, are susceptible to displaying inaccurate longevity.
The cause of the inaccurate longevity estimate is a slightly lower-than-typical discharge voltage during the plateau phase of the battery depletion curve (dashed line), compared to a typical voltage plateau (solid line), as illustrated in the graph below. During this plateau period, the Carbon Monofluoride (CFx) in the battery cathode is powering the device. Note, longevity estimates early after implantation and later in the device life are unaffected, as shown below. The battery remains within operating specifications.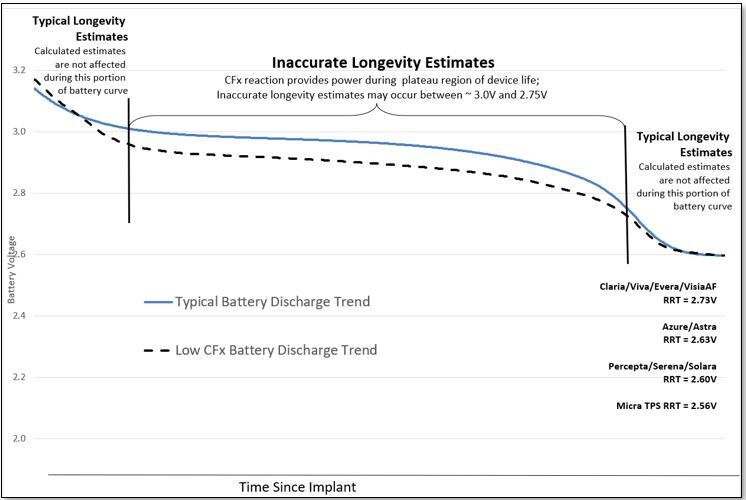 The Independent Physician Quality Panel recommends routine follow up in accordance with standard practice for these devices, as RRT function is normal and the battery longevity is unaffected. There is no need to schedule patients to come in outside of their planned, scheduled visits due to this issue. The corrective fix is implemented in programmers, CareLink, and other systems which display device longevity. The patient's device does not require an update. Follow the steps below as applicable to your clinic or hospital. A local Medtronic Representative can assist in updating Model 2090/Encore programmers and SmartSync Device Managers in your facilities.
Model 2090 and Encore™ Programmers
These programmers will require new software to be installed to correct the displayed longevity estimator error. The software applications and version are listed in Table 1 above and can be installed via Medtronic Software Distribution Network (SDN) or via secure USB.
SmartSync™ Device Managers
These tablet-based programmers will require a software update to be installed via the internet - refer to Appendix A (below) for detailed instructions on how to download and install the updated application software.
Completion of programmer updates may be delayed due to COVID 19 pandemic-related facility restrictions. Based on your facility's needs and accessibility, Medtronic Representative or authorized personnel will work with your facility as requested to complete the updates. Customers with Paceart systems should contact their support team to ensure the latest device update is applied.
Note: Once a programmer is updated, the correct longevity estimate will display at the patient's next regularly scheduled clinic visit. Until all SmartSync Device Managers and Model 2090 and Encore programmers are updated, a difference in longevity estimates between programmers and CareLink Network-displayed longevity may be observed.
---
APPENDIX A – UPDATING SMARTSYNC™ DEVICE MANAGER
Until all SmartSync Device Managers and Model 2090 and Encore programmers are updated, you may observe a difference in longevity estimates between these programmers and CareLink-displayed longevity.
Updating Medtronic SmartSync™ Device Managers:
1) Connect tablet to internet and open the SmartSync App
The SmartSync App automatically checks for available updates each time it is opened.
2) If your tablet does not contain the most recent software, you will automatically receive a notification that a new version of the SmartSync App is available (3.2.01):
If pop-up messages appear with the option to "cancel" or to "update", select "update".

Medtronic Managed Tablets: If the App closes, find the Medtronic App Catalog, and select "Install" to initiate the download.

Customer Owned Tablets: If the App closes, navigate to the AirWatch App Catalog or App Store and select "Install" to initiate the download.

If you do not receive a notification that a new version of the SmartSync App is available, skip to Step 3.
3) Once you confirm the newest version of the SmartSync App is on your tablet, re-open the SmartSync App.
The app will automatically provide pop-up notifications informing you if there are new versions of device software applications that must be installed (see table below).

Select CONTINUE for each pop-up window that appears. If you do not receive any pop-up notifications when you open the SmartSync App, then your tablet contains the most recent versions of all available software.
| | |
| --- | --- |
| Device Family | SmartSync Application SW Version |
| Azure™/Astra™ DR and SR | D00U003, Version 3.2.02 |
| Percepta™/Serena™/Solara™ | D00U004, Version 3.2.02 |
---
Specific Models This Applies To