Helix Retraction of the Sprint Quattro Secure S™ 6935 and Sprint Quattro Secure™ 6947
View specific models that this applies to
Purpose of This Information
This performance note is intended to provide guidance regarding retraction of the helix of Sprint Quattro Model 6935 or 6947 leads.
Background
In certain cases, over-retraction of the helix, during initial implant or subsequent repositioning, may result in the inability to extend the helix. This does not impact acute or chronic performance of successfully implanted leads.
The root cause is over-retraction of the helix mechanism beyond the retraction stop, resulting in the inability to extend the helix in a subsequent attempt.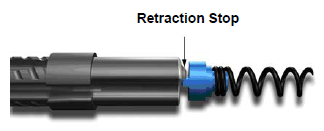 Recommendations
Consistent with the Technical Manual, the following steps can be used to mitigate this issue.
Fluoroscopy should be used to confirm when the helix is fully retracted.
Rotation of fixation tool should be stopped once full helix retraction is visually verified.
If helix is unable to extend, replace with a new lead and report the issue to Medtronic.


This performance note is not associated with specific models