Potential Loss of Left Ventricle Pacing Due to Software Issue
All models of Claria MRI CRT-D SureScan and Amplia MRI CRT-D SureScan devices.

Original Date of Communication: December 2016
View specific models that this applies to
Inactivated as part of issue 82 - May 2020
Product
All models of Claria MRI CRT-D SureScan and Amplia MRI CRT-D SureScan devices.
---
Status Update October 2019
A software update, Application SW034 Version 8.2 was released in March 2017 to correct this issue. This software has been deployed onto Medtronic CareLink™ Model 2090 and Encore™ programmers. An in-clinic device interrogation with a programmer containing this software version will update the patient's device automatically. To prevent possible recurrence of the software issued described in the original advisory, the patient must continue to received device programming only from a programmer that has this software update. The loss of LV pacing issue will still occur if the specific programming sequence described in the original advisory letter is performed using a programmer that has not been updated with SW034 Software Version 8.2.
Original Advisory
Due to a device software issue, a loss of Left Ventricle (LV) pacing occurs following a specific device programming sequence. If it occurs, this issue can be corrected by re-programming the device. All tachyarrhythmia detection and therapy features remain fully operational.
A software update is being developed to address this issue. Further information will be communicated once the software update receives applicable regulatory approvals.
All models of Claria MRI and Amplia MRI devices are included in the affected population. This issue can only occur in devices that have been programmed from Managed Ventricular Pacing (MVP) mode to a pacing mode with AdaptivCRT enabled.
When a patient with AdaptivCRT enabled (shipped setting) is subsequently programmed to MVP mode and then re-programmed back to DDD or DDDR, AdaptivCRT is not re-enabled. When this programming sequence occurs, LV pacing is not delivered, despite parameters indicating AdaptivCRT is enabled. This will result in RV only pacing, which may be undesirable for the patient. LV pacing will remain disabled until a specific programming sequence is manually completed; refer to the Patient Management section below for details.
Through 10 November 2016, two events have been reported to Medtronic related to this issue. A review of available data revealed an overall occurrence rate of 0.38%. Medtronic has not received any reports of patient injury related to this issue.
Original Patient Management Recommendations
After consultation with Medtronic's Independent Physician Quality Panel, Medtronic offers the following options for managing patients with a device that may be susceptible to the AdaptivCRT/MVP interaction.
Until the software update has been approved and the affected device models receive the update, follow the programming recommendations provided below. These recommendations also apply to any new device implants.
1. At the patient's next scheduled CareLink transmission or in-office follow-up, identify if the patient's device is operating with AdaptivCRT enabled and loss of LV-pacing. Continue this practice for all subsequent device evaluations until the software update has been implemented.
Using CareLink or Programmer interrogation session reports:
If the CRT setting is currently programmed to Adaptive Bi-V and LV or Adaptive Bi-V (Figure 1), review rate histogram CRT Pacing percentages (CRT Pacing: Bi-V and LV).
If Bi-V and LV pacing percentages Since Last Session are both near 0%, then the device has encountered the programming sequence and has lost LV pacing; proceed to step 2.
Figure 1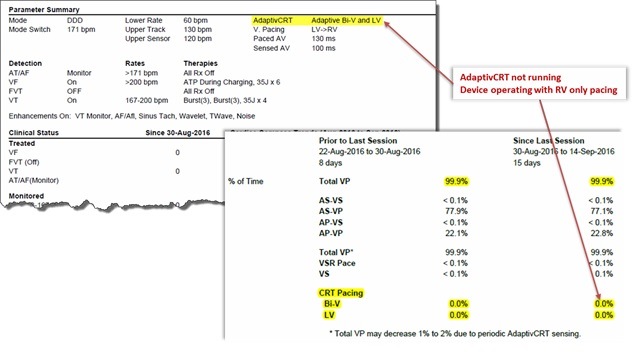 2. For patients identified with loss of LV pacing:
Perform the following programming steps to restore the device to its expected operating state with AdaptivCRT enabled:
Select the CRT parameter window, select Nonadaptive CRT, and select PROGRAM.
Select the CRT parameter window, select the desired AdaptivCRT setting (Adaptive Bi-V and LV or Adaptive Bi-V), and select PROGRAM.
Until the software update is available, follow the programming steps above to avoid the loss of LV pacing.
As part of the software update previously mentioned, Medtronic will also address an unrelated transient mode switch behavior that may occur in MRI Quadripolar CRT-D device models (Claria MRI, Amplia MRI and Compia MRI). The mode switch behavior is unrelated to ventricular tachyarrhythmia detection and therapies. This behavior only occurs when a VectorExpress™ Test is started, but then aborts due to a fast or unstable rate, or due to a manual user abort (i.e., manually selecting STOP Test). Under these scenarios, the device remains in the transient mode switch state until any of the following occur:
An automatic Atrial Capture Management™ (ACM) pacing threshold search,
An automatic delivery of any ATP or shock therapy, or
An in-office follow-up activity, such as a pacing parameter programming or conducting one of the following in-office tests: Sensing, Threshold, Underlying Rhythm, or CardioSync™. A "Test Started" indication is sufficient to clear the transient state.
Through 10 November 2016, Medtronic has not received any field reports or complaints of this transient mode switch behavior
If you have any questions, please contact your local Medtronic Representative or Medtronic Technical Services at 800-723-4636.
Specific Models This Applies To