Device Programming Information - Setting VF ATP During Charging Therapy
Cobalt™ XT, Cobalt and Crome™ ICDs and CRT-Ds

Original Date of Communication: September 2020
View specific models that this applies to
STATUS UPDATE - JUNE 2022
As of 10-Jun-2022, Medtronic has received 18 complaints (out of 82,261 devices sold worldwide) related to this issue. No serious adverse events have been reported.
This advisory has been addressed through release of new software to correct for this programming error. After installing software application D00U005 version 6.0.3 (or higher) on all SmartSync tablets in your facility, this behavior will no longer occur. Clinicians may update their SmartSync App by connecting their tablet to the internet and accepting the update. Based on your facility's needs and accessibility, a Medtronic Representative or authorized personnel may assist with updating SmartSync tablets in your account. Refer to the original communication (below) for additional details.
ORIGINAL COMMUNICATION - SEPTEMBER 2020
This communication provides information about the programming of Ventricular Fibrillation Antitachycardia Pacing (VF ATP) During Charging. When enabled, VF ATP During Charging allows the device to simultaneously deliver ATP therapy while charging to deliver a high-voltage VF therapy, if needed.
For Cobalt and Crome ICD and CRT-D devices, clinicians should confirm that the VF ATP parameter has been set to the desired value. Depending on pre-implant programming sequences, the VF ATP parameter may not be automatically enabled and may require manual programming (see Image 1 below). In prior generations of Medtronic devices, the VF ATP parameter was automatically enabled with all VF therapies.
As of 21-Sept-2020, Medtronic has received one (1) complaint (out of 3,237 devices sold worldwide) related to this issue. No serious adverse events have been reported.
These devices will deliver all programmed high-voltage therapies as expected, regardless of the VF ATP parameter setting. Likewise, all device functions will operate as programmed. If the VF ATP is not enabled, there is risk for a high-voltage therapy to be applied for a Fast VT arrhythmia in the VF detection zone, which could have been treated with ATP During Charging.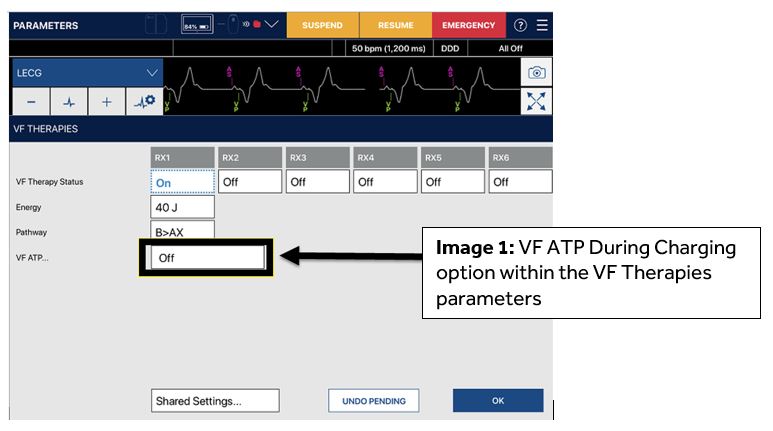 Clinician Actions
We realize that each patient requires unique clinical considerations. With deference to those considerations, Medtronic recommends physicians follow normal clinical practices, including:
At implant, as described in labeling, confirm the appropriate selection has been programmed for the VF ATP parameter.
At routine follow-up, confirm that the VF ATP parameter is programmed to the desired setting for each patient.
Specific Models This Applies To