AT500 Pacing System Follow-Up Protocol
View specific models that this applies to
Purpose of This Information
This article is intended to provide clinical guidance regarding follow-up practice and patient management when the AT500 battery voltage approaches the Elective Replacement Indicator (ERI) level of 2.6 volts.
Background
Many AT500 pacing systems are now reaching their ERI voltage level (2.6 volts). This is expected since the battery used has an approximate longevity of 5-6 years under normal conditions (100% DDD pacing, 3 volts, 0.4 ms).
Technical Services has received reports of battery voltage levels below end of life (EOL of 2.2 volts) where EGM prestorage is programmed ON, or higher outputs and/or pacing rates are necessary. It is important for physicians and allied professionals to understand battery depletion characteristics between ERI and EOL so that they, in turn, can understand how this affects management of follow-up visits for the AT500 as this device nears the end of its expected longevity.
AT500 Battery and Longevity Information
In contrast to other IPGs, the AT500 does not change its mode, stimulation rate, or any other parameter when the battery voltage drops below the ERI level of 2.6 volts (with or without magnet applied). The Threshold Margin Test (TMT) is also not available.
Therefore, it is not possible to perform transtelephonic assessment of AT500 battery status. This must be done during an in-clinic follow-up session. A warning will be displayed on the Quick Look screen at the beginning of a programmer (follow-up) session when the ERI battery level occurs. The measured battery voltage will also appear on the programmer display and on printouts.
Battery depletion curves are shown in Figure 1, with special focus on device longevity when programming EGM prestorage ON or OFF.
AT500 Battery Depletion Curve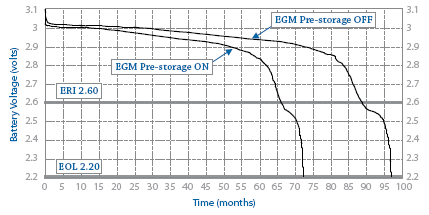 Figure 1: AT500 battery depletion curve for common parameter settings of DDDR, LR 70 ppm, UR 120 ppm, 100% pacing, Atrial – 2 V, 0.4 ms, 600 ohms, Ventricle – 2 V, 0.6 ms, 900 ohms, and EGM Pre-storage ON versus OFF.
Medtronic's review of ongoing AT500 battery life test data matches our original longevity modeling and so meets our expectations. However, when using longer durations between follow-up periods (> 3 months), clinicians should consider the following in setting their remaining longevity expectations.
Enabling the "EGM Pre-storage On" capability will increase current and reduce device longevity by approximately 9 days for each month pre-storage is ON
Longevity decreases with an increase in pacing rate, an increase in pacing amplitude or pulse width, a decrease in pacing impedance, a higher ratio of paced to sensed events, or extended use of the Atrial Preference Pacing, EGM prestorage, or Holter Telemetry features
Recommendations
Follow-up frequency should always be accelerated as devices reach ERI voltage levels to ensure device explant/replacement occurs prior to end of life voltage levels. With the wide variety of follow-up schedules being used, Medtronic recommends a 3-month follow-up frequency for the AT500 pacing systems. This is particularly important for patients in whom EGM prestorage is programmed ON, or higher outputs and/or pacing rates are necessary.
Specific Models This Applies To